A fantastic production of Tick, Tick…Boom is always welcome anytime or anywhere (within a reasonable travel distance to me, my one request), but there is something about Keen Company's FLAWLESS revival playing at Theatre Row that…transcends. That's what it does, it just. Transcends. Everything.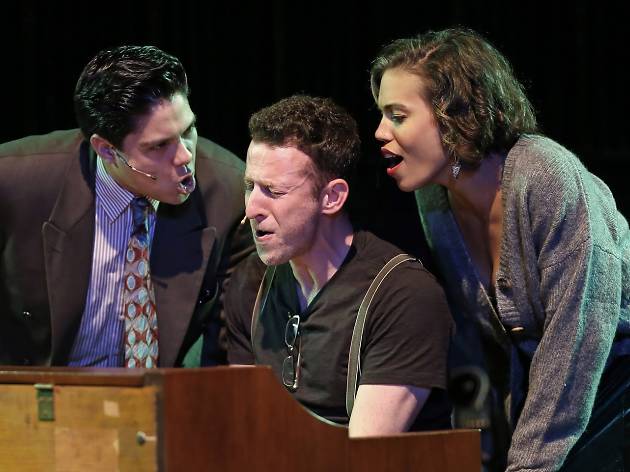 It could be that the timing of this revival couldn't have been more perfect, fostering such a hyperbolic reaction (yes, even for me). Maybe it has to do with the current political/sociological climate, which has become so tumultuous, people can't look at their televisions or computer/smartphone screens without throwing their hands up in disgust while stating aloud, "…the fuckkk??"
Or possibly because adulting has become so difficult as to be unrecognizable, between the mounting cost of living, career woes, health, relationship and/or other life-related stresses. Or perhaps one has a creative outlet - whether it be for a living or for pleasure - that has plateaued, doesn't generate much enjoyment and excitement or has become so inconveniencing financially or time-wise, one questions his/her entire relationship with what once provided so much purpose and passion.
Not to be sanctimonious or anything, but the crushing reality of adult life is…well, it is prone to sucking. Except, when it doesn't. And everything feels harmonious for however long - a day, a week, a month or even just one fucking moment that stands out as better then the rest, providing optimism in a world that seems hellbent on self-destruction, sabotage and spreading toxicity. That same world where it seems like most of its inhabitants have given up because fuck it and fuck everything, you know...
If there is anyone that understood alllllll of that, it was probably Jonathan Larson. Because Tick, Tick…Boom! was written over 25 years ago and, with a little help from David Auburn, I can't recall the last show that spoke so profoundly to life working in the theatre scene of Manhattan, the late-20's, early 30's experience or even just adults having to make difficult choices when confronted with a fork in the road. And if there is something to learn from this revival, it can be summed up as a simple encouraging mantra of "no matter what, don't give up and move forward with everything you have."
That is what blew my mind and soul the most. There may be no forthright villain in this story (essentially, the cutthroat theatre industry and Manhattan itself is just about it), but under Jonathan Silverstein's astute direction, I really felt that Jon, Susan and Michael were, at the least, trying their hardest in the face of natural conflict to carve out the best lives for themselves. No, really, think about it...
Michael may have traded in his acting career for one in corporate America, but not once did I detect a hint of regret in the sacrifice he made. He mentions to Jon that he doesn't miss starving and that he can endure the travel demands of his job, hence, he reaps and enjoys the rewards of his elevated income (the BMW he drives, his new apartment, owning more then three belts) before…y'know, shit takes a dark turn.
And while Susan starts entertaining the thought of moving elsewhere, putting her relationship with Jon in a difficult spot as he insists in staying put in Manhattan, she remained strong in her conviction that the change would be for the best. To paraphrase her words, "I'll still be a dancer, just not in New York."
And then there is Jon, whom for whatever angst he feels while prepping for his workshop or powering through his writer's block (or composer's block, as it were), just watch as he lights up walking through the Theatre District, or watching Karessa sing SLAY "Come to Your Senses" during his workshop and, of course, his euphoric moment in Central Park and he commandeers the piano and performs the absolute fuck out of "Why." He may hit a creative wall or three or six, but as he gains more perspective and thinks it over, he comes to the conclusion that there is nothing else he would rather be doing. Some encouraging words from St------ So------ don't hurt, but I digress.
All three characters make strong cases for themselves, but the audience is spared taking any sides or judging the choices any of them have made. Yes, even Michael for "selling out" or Susan for, what it looks like, checking out. In other words, we have three well-intentioned, occasionally flawed, but very likable characters veering back-and-forth from stumbling through life and excelling in it, contemplating the present and wondering/being scared of the future…doesn't that sound like all of us? If you are thinking that this show feels real - almost TOO REAL at times - it's because it is.
There is so much more that this revival of Tick, Tick…Boom got exactly right, starting with Silverstein's energetic direction, capturing the frenetic, adrenaline-pumping life in Manhattan. The cast of three whirl around the sets and props - the piano, a couch, some chairs, etc. - and HAUL ASS with Christine O'Grady's well-done choreography, never letting up and having a blast while doing so.
Ciara Renee's excellent portrayal as Susan and co. won't make me forget Karen Olivo's perfect showing from the Encore's production a few years back, but Miss Lady is a beautiful, talented star and we all should be ready for her to be a household theatre name. Her rendition of "Comes to Your Senses" - basically, Jonathan Larsen's best ballad that is not "One Song Glory" (and one of my all time favorites) - is every bit enthralling and powerful as it should be.
While it may sound like a back-handed compliment, George Salazar really has "the best friend" role (

typically, named Michael!

) down to a science. He's well-sung (as always) and the rapport he develops with Blaemire felt sincere, like there really is a decades-long friendship between the two of them (co-starring in the last revival of Godspell probably helped!). "No More" - Jon and Michael's overjoyed reaction to the latter's brand-spanking new apartment - is a good song in itself and a feat of direction/choreography, but Salazar and Blaemire's killer dance moves, enthusiasm and perspiration (literally) leveled the entire building and then some. It was hard not to watch and laugh along as Jon and Michael play make-believe and be total dorks. Like all good buddies do!
Renee and Salazar also occupy a dozen or so supporting characters between the two of them and its worth pointing out that they shift back and forth between them all - with only a few adjustments of costuming to help - without a moment of hesitation, it would seem. Just one look at either of them, with a different posture, facial reaction and/or vocal affectation, was sufficient enough for me to buy into a new character.
And then there is our homeboy, Nick Blaemire. Nick Fucking Blaemire. We're all ready for him to be a mega-watt star, performing and composing and taking Broadway (even more) by storm, right?! How it hasn't happened already is a crime to all people with eyes, ears and a functioning nervous system. As wonderful as he was performing in Godspell, Dogfight or Found: The Musical, his performance as Jon is a cannonball to the soul.
Casting a perfomer/composer for the role of Jon was only going to yield positive results, but Nick's casting is next-level genius given his, um,

track record

(although, Glory Days was just ahead of its time and if you were to ask the younger theatre-going generation, most will tell you the show is quite good). He is clearly enjoying himself walking the audience through the narrative aspects and hitting all of Jon's quirks. But when Jon is hardcore angsting and emoting like there is no tomorrow, that is where Nick is laid bare on the stage. "30/90" lands all of its punches as he quarrels with his almost-30 years of age and what little his has to show for it, projecting self-doubt and uncertainty amidst that wonderful, charismatic gem of a song. "Johnny Can't Decide" is a vocal explosion on all ends, with Nick hitting the high notes in his range to melt your ears. To top it all off, he makes "Why" the moment you didn't realize you were holding out for, as he proceeds to OWN EVERYTHING, working his pipes and every one of his emotions for all their worth as Jon rediscovers his resolve for song-writing.
And remember, this guy was wearing an eyepatch and playing Plankton in the SpongeBob Musical not too long ago. Classic Nick.
This old chestnut of a show is a theatrical treasure that I would put at the top of my favorite musicals list instantly every time. The fact that I can find further nuance in Tick Tick…Boom! isn't a surprise as my age gets closer and closer to 30, but all-too relatable, reassuring/inspiring theatre is…well, it speaks for itself. I know this show's Off-Broadway run was just extended (YASSSS!), but, like, I believe I speak for everyone when I say it is time for this mostly unknown gem to be on a Broadway marquee and start delighting larger crowds. C'MON already...Tick, Tick...Boom! has never been on Broadway before, we're so many years removed from Rent's regime that it is time a spotlight was lent to Jonathan Larson's other show, even just for a little while, and we have a director/cast that knows what they are doing once the light hits the central piano on stage. If I had the money to make this happen (LOLZ), consider my check written out yesterday.
Photo Credit: Carol Rosegg