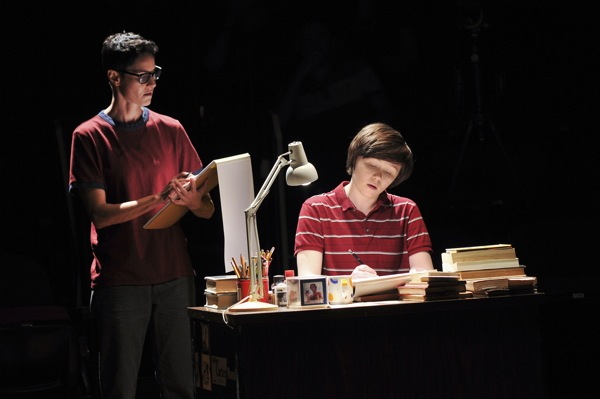 Fun Home for everything. Literally - Attaboy, Tonys! Since Fun Home's Broadway run was announced after its acclaimed Off-Broadway run, anyone with eyes and ears saw it for the instant contender that it is. Lo and behold, the Broadway production - staged in the round, making the experience even more enthralling and converting me into a full-blown fan - accumulated TWELVE nominations. Even though there are more commercial entities and Fun Home's subject matter can be a little…esoteric (I mean that in the most constructive way), TWELVE nominations for such an intelligent, personal and heartfelt show is the pleasant surprise we all needed this morning. Particularly, Beth Malone sneaking into the highly-contested lead category and Emily Skeggs joining Sydney Lucas and Judy Kuhn, two virtual locks, in the featured category. Most of all, it is nice to see a show - it has to be said - where the length of its run is tied into the critical and award reception...and the latter delivered in the best way possible. Now I can enter and lose the lottery hundreds of more times!
Welcome Back, Kristin Chenoweth!
- Well, SHE had a good morning, no? It is pretty badass that after a less-than-stellar outing in
Promises, Promises
, our pint-sized fabudiva bounced back in a big way. Her performance in
On the Twentieth Century
as a well-sung, daffy actress-type who plays around with her Andy Karl boy-toy (a role that plays to every single one of her singing, acting and dancing strengths), is one of the highlights of the season and my personal pick to win the statue. Regardless, we'll be seeing a lot of her on Tonys night as she is co-hosting the ceremony with Alan Cumming. Girl's a winner regardless - and a BONAFIDE STAR - but let's not act like we didn't know that already.
Come Peer Through the Skylight - YAY! Just yay. It seemed like the buzz cooled off after this brilliant, understated revival came and opened. After all, it wasn't the only British transport to make its way to Broadway and it is not the only play directed by Stephen Daldry this season (the other being The Audience). Carey Mulligan was a never a doubt with so little competition, but Bill Nighty (and Matthew Beard to some extant) joining her was great news. When it comes to these (mostly) two-character handlers, nominating one without his/her scene partner always seems 'off' to me. To boot, Bob Crowley and Natasha Katz scored nominations for their scenic and lighting designs respectfully and considering Kyra's apartment was its own character - revealing so much about her and expanding the depth of the story - not one nomination was out of place. Here's me hoping it wins some of the night's top honors.
Steven Boyer and Alex Sharp, oh my! - The Sophie's Choice for the year? Probably this match-up. It says something about the quality of Boyer and Sharp's "OMG amazing" performances in Hand to God and The Curious Incident of the Dog in the Night-Time that multi-Oscar nominee Bradley Cooper and the aforementioned Nighy are even registering as competition. It'll be a shame that one of them will be leaving empty-handed come June 7th, when they are laying bare everything they have on their stages eight times a week, but thems the breaks and we know these talented individuals are going places afterwards.
And none for Honeymoon in Vegas, byeeeee - Throwing salt in the wound? Kicking dirt over its grave? Sorry not sorry. I want to love every show these eyes come across and support theatre (hell, that's why I started this website). But with the misogyny this show displayed towards its female characters and the mildly racist undertones - all of which a lot of critics seemed to love because their moral paradigms shouldn't be questioned at all - the Tonys didn't need to remind us that this show existed. It closed for several reasons; best to leave it that way.
Make way for Micah Stock - It's Only a Play has been hanging around for some time with a big-name ensemble, full of many previous Tony nominees and victors. And while I had hope for Micah Stock and my girl, Stockard Channing (who is flawless and I love her), I'll settle for one of the two. As the newcomer of the show's original cast, Stock offered up laughs upon every one of his entrances and raw enthusiasm by the mile…and his on-the-fly rendition of "Defying Gravity" stole the show. A win would be a long-shot, but Micah's nomination is somewhat of a victory, I'm sure. I can't wait to read some interviews about how surprised and excited he is!
Were We Honestly Supposed to Forget about Disgraced? - In an extraordinary year for new plays - not just The Curious Incident… and Hand to God, but the also-great Constellations, Airline Highway and The River - it was quite a battle royale as to which of them will take the five four slots (seriously Tonys, you couldn't make way for a fifth?). Disgraced's car in the race sorta fell off by closing months ago and the conversation around Ayad Ahktar's Pulitzer Prize-winner dying off immediately. Thankfully, there was enough gas in the engine to secure a spot. Such thought-provoking, well-written and topically-relevent works aren't frequent options for Broadway - that is why we have Off-Broadway! - but denying a Pulitzer-Prize winner a Best Play nomination would have looked like a bitch-slap (which is why I half-suspect they followed-through on a nomination).
Girl Power, Y'all! - It just occurred to me as their names were being announced this morning, but some of the best performances all year are coming from the Featured Actress in a Play category. Patricia Clarkson is never not awesome. Julie White is giving one of the most effortlessly heart-breaking performances in Airline Highway as a damaged prostitute. Just the sight of Annaleigh Ashford's terribly-awesome or awesomely-terrible ballet dancing was enough to have me rolling-on-the-floor laughing in You Can't Take It With You. And amidst the Steven Boyer masterclass (and Geneva Carr's also solid performance) in Hand to God, Sarah Stiles was no slouch and kindly whipped some ass of her own. Nice job ladies, I'm here for you all!
Naturally, this Write-Up Wouldn't Be Complete Without Mentioning My Beloved Something Rotten! - Bruce Willis got it right this morning (there is something I never thought I would say)…you betta annunciate! That exclamation point in the title isn't there for no reason. It also happens to be an incredible show, despite Ben Brantley surprisingly loathing it (but I tend to think Uncle Ben just got a little worn out from all of the April openings, as he tends to do, and Something Rotten! was the untimely show in his crosshairs). Love it all and ten nominations is just about right. The meta-ness, the Shakespeare and musical theatre jokes, Casey Nicholaw's balls-to-the-walls directorial gusto and the cast are making Something Rotten! one helluva show. Christian Borle and Brad Oscar are treasures and Brian d'Arcy James is divine. Not bad for a relatively last-minute show, not bad at all.
Photo Credit: Joan Marcus