Tomorrow effectively kicks off the Fall Theatre season for me, as I'm bringing back one of my fave things ever: the multi-show weekend. How've you been, ol' buddy, I've missed ya! Bright autumn days are ahead as my bank account continues to decline in funds and my bedroom gets overtaken by stacks of Playbills like one of those Hoarders on TV. Ahh, good times. Fall slate? We're coming for ya...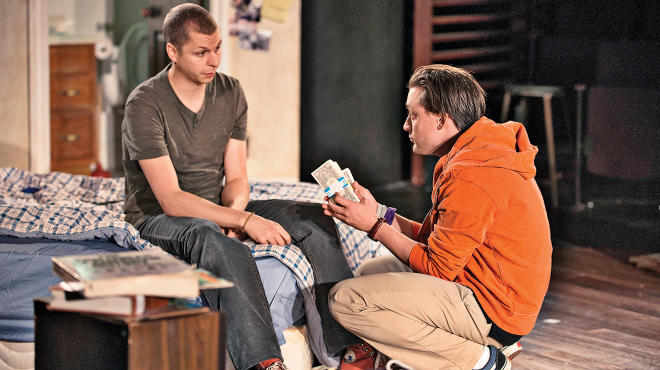 -
This is Our Youth
, Opened Last Night at the Cort Theatre
Y'know what? Major kudos to all those involved for throwing a bone to the next generation of theatre-goers. Kenneth Lonergan's tale of young adult angst and confusion could continue the regional and college circuits until the end of time, but his writing is so crisp and on-the-nose, that it deserves its long overdue Broadway showcase. More importantly, it needs to be seen by youths everywhere. We know you're out there, don't worry: this show has you covered and will strike you in the feelz. Anna D. Shapiro and the trio of actors, with the perfectly-cast Kieran Culkin as Dennis, could not fuck up This is Our Youth if they tried and, judging by the response since

the reviews

hit the wire last night, they didn't.
- The Curious Incident of the Dog in the Night Time, Opens October 5th at the Barrymore Theatre
I pretty much covered all the bases when I saw the National Theatre Live broadcast

this past July

, but it bears repeating: this show is PHENOMENAL and I'm ready for it to top every list and take every award. From my vantage point, I'm curious to see how the material has held up from its debut several years ago, and what changes are made other then the new staging (the original West End production was in-the-round, and I reckon the Broadway run will be proscenium-like). You know, as you do.
- It's Only a Play, Opens October 9th at the Schoenfeld Theatre
So, my girl Ali texts me last weekend saying that It's Only a Play is "AMAZING." I believe her and you should too. Then again, it doesn't take much to convince me to see a Terrence McNally play (especially right after the stellar Mothers and Sons graced us with its presence). Or a cast featuring talents like Stockard Channing, Megan Mullally, Nathan Lane, Rupert Grint and Matthew Broderick. And Godra knows Jack O'Brien is a talented director with treasure troves of experience and I'm optimistic that this show will be his return to form. Because, like, I've disliked the last four shows I've seen him direct and that's a lot of holding out for. You do you Jack; you've got this.
- Found, Opens October 14th at the Linda Gross Theater
The concept of this show is based on

Found magazine

, which documents all adrift and discarded notes/flyers/anything as means of learning about unknown people. This could be hit or miss - and in the spirit of full disclosure, Hunter Bell and Lee Overtree are creative names I wouldn't normally get out of bed for - but I am quite intrigued. If anything, I'M HERE for this cast of some of my favorite performers, Nick Blaemire and Barrett Wilbert Weed, as well as the always-welcome Daniel Everidge, Andrew Call, Betsy Morgan and Community's Danny Pudi. This company could sit in an empty room and play Monopoly for two days and I'd pay top-dollar to watch every roll of the die.
- The Fortress of Solitude, Open October 21st at the Newman Theater at the Public
If you can peel your eyes and ears off of the pending Hamilton and Fun Home's Broadway run next spring, here comes the Public's other show to watch out for. Based on Jonathan Lethem's novel, Fortress of Solitude is a love letter to the Brooklyn of the 70's, topped off by two kids and their love of superheroes. It's been a long road for this show's New York debut - trust me, I've been following it for some time - but now It. Is. Happening. The cast features some people you might have heard of - Adam Chanler-Berat, Rebecca Naomi Jones, David Rossmer, no big deal or anything - plus some star turns waiting to be seen. So go see it because you might just be glad you did.
- Angels in America, Runs 10/21 - 10/23 at BAM
In my entire history of theatergoing, never have I been more excited and terrified at the same time to step foot into a theater. Maybe because Angels in America is one of the most devastating and emotionally tumultuous pieces of work to come out in the last millennium, featuring the writing of the brilliant Tony Kushner at its Kushner-iest. Maybe because the run-time of the show exceeds five hours and the most I have ever done is just under four (which was, not surprisingly, Kushner's Intelligent Homosexuals Guide to Capitalism and Socialism with a Key to Scriptures). Maybe because director Ivo van Hove, as my Theatre/Twitter pal Nicole has stated, has his street cred. All I know is, I feel like I am gonna emerge from the theatre trembling at the power of this show, and maybe crying a gallon or four of tears. Angels in America. It can do that.
- Disgraced, Opens October 23rd at the Lyceum Theatre
I don't know what took so long for Disgraced to finally - FINALLY - have its Broadway run. I mean, aside from the fact that its central theme of racism in the 21st century will never be a huge monetary draw. But hey, Disgraced has its good friend the Pulitzer Prize, so all other basic plays can back the fuck off. Ayad Akhtar doesn't hit a wrong note with his writing and I look forward to the audiences emerging from the theater and thinking about what they just saw. For days, weeks, months and, in my case after seeing the Off-Broadway production, years on end.
- The River, Opens November 16th at the Circle in the Square Theatre
Jez Butterworth is one of my favorite types of writers - detailed, emphatic and very few fucks to give. Say what you will about Jerusalem, but that show had heart and personality. I know very little about The River other then it hooked-in Hugh Jackman above the marquee, but that doesn't mean I am any less eager to take my seat. My favorite theater, featuring one of my favorite writers and a legitimate movie star with a rock-hard boner for Broadway, so much so he keeps coming back even though it pays millions less then X-Men, and…yeah, The River can sit with us.
- Side Show, Opens November 17th at the St. James Theatre
So On the Town is kind of a bleh show and The Last Ship, even with Michael Esper's casting, looks more and more boring every time I see their commercials or hear a snippet of the score. Right on cue, SIDE SHOW IS BEING REVIVED ON BROADWAY! As the caps writing indicates, I CAN'T EVEN OMG NEED TO SEE ASAP. They just don't make musicals like this one anymore - freak show caricatures being all unapologetically bonkers. And then heartfelt for a few songs because conjoined twins have feelings for two. And this particular production has been getting raves for days going back to its run at the Kennedy Center last spring/summer. I'm sold. Buying a ticket soon. Because priorities.
Photo Credit: Brigitte Lacombe