With mere hours left in 2013, let's wrap this year in theatre up before dropping the mic a.k.a pulling an Audra. Happy New Years to all - see ya back here in 2014!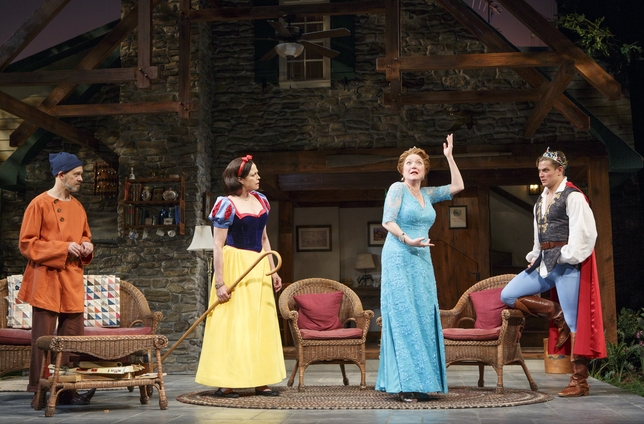 Vanya and Sonia and Masha and Spike
Some people hear, "Chekov" and run screaming in the opposite direction because they are convinced he is too boring or too depressing. Here, Christopher Durang syphons through Chekov's catalogue masterfully, finding laughs at every juncture and providing a bonkers story and crew of characters to cheer for (and against). Throw in a cast in top-form (Kristine Nielsen and Shalita Grant, hey girls heyyy!!!) and it is clear why Broadway didn't churn out a new play better than this one.
John Gallagher Jr. in Short Term 12
Short Term 12 wasn't the year's biggest hit, but it is one of the best reviewed and some would say it was underrated. And while the film was more about Brie Larsen's character, John Gallagher Jr. - already branching out as one of the breakout stars of The Newsroom - was fantastic in his part as well. If he isn't coming back to Broadway or Off-Broadway anytime soon, at least he is occupied with worthy projects.
Domesticated's Gender Bomb
I want to chalk up Domesticated's finer points to Laurie Metcalf running out of fucks to give and tossing around bitch remarks (while looking FABULOUS in a white pant suit). And while that was lovely, Bruce Norris does have that writing ambition of marrying an entertaining story with social commentary, which he knocked out of the park. A dark dramedy about a family coping in the aftermath of the husband/father's sex scandal, Norris' dialogue discusses modern-day male/female gender roles and ideologies with a second course of "is this feminism or feminNazi-like?" I left the theater reevaluating my entire approach and attitude towards women...well played, Domesticated.
Really Really Happened. Really.
Does anyone else remember this striking, cynical, self-aware show that answers the question, "why do cognizant, young adults of this generation abhor their self-serving peers?" Paul Downs Colaizzo, forever on my radar after MCC's Really Really, knew exactly what he was doing, putting out a show that could work as a time-capsule piece found on ThoughtCatalogue.com. That is really saying something because so few writers are in-tune enough with the tumultuous, cutthroat Millenials landscape. I crave another production, if only for audiences to gain a better perspective on young-adulthood in the modern age.
The Year of Tracy Letts
Most people couldn't pick Tracy Letts out of a line-up prior to 2013. Nowadays, his name is everywhere and rightfully so. His Pulitzer Prize-winning August Osage County got adapted for the big screen and he shocked the world by collecting a Tony over the likes of Tom Hanks and Nathan Lane. He also secured a role on Showtime's Homeland, while lining up a role in the Broadway-bound The Realistic Joneses. Clearly not enough, his penned work, Killer Joe, is in the Broadway queue and he got engaged to Carrie Coon. Sounds like a fulfilling year if you ask me.
Murder Ballad 2.0
We didn't need another run of the kick-ass Murder Ballad no more then a few months after its limited run uptown wrapped (unless it was Broadway, but that is a convo for a different day). But another mounting downtown at the Union Square Theater, with the bonus of Caissie Levy joining the cast, and I wanted to blow kiss whomever made that call. Because it was an even more polished and electrifying rock opera, featuring an on-fire Rebecca Naomi Jones being the snarchtastic BAMF we all aspire to be (seriously, I upgraded her to the level of "spirit animal"). Now, about that Broadway run...
Lovely Betsy Wolfe being Lovely
Second Stage seemed to "get" the deconstructed, "Two Actors alternating in the Spotlight" feel of The Last Five Years...that is all you really need, so strong is Jason Robert Brown's score and the chronological, reverse-chronological storytelling. But the actors are a big part of the success or failure of the show and our beloved Betsy Wolfe lit up that stage every night. Already a star, her Cathy grabbed our attention and made us feel for her. Since the cast-recording came out, I've sang along with Betsy about the heartbreak and hope that is Cathy's relationship journey. And I look forward to singing praises of her again with her upcoming turn in Bullets Over Broadway.
Everything is Ryan Scott Oliver and Nothing Hurts
If I had to sum up 2013, you can pretty much say it started with Ryan Scott Oliver and ended with Ryan Scott Oliver with a whole bunch of stuff in-between. Last January, it was selections from his entire catalogue presented at Joe's Pub. This fall had three of his works - 35MM, Darling and Jasper in Deadland - presented in concert form at 54 Below. And from what I attended, I believe I speak for everyone when I say, "It. Was. Incredible." Like an incredible type of incredible. There is an international famine of incredible in the world because Oliver's musicals are consuming it all. And 2014 is looking on the up-and-up because Jasper in Deadland will get a full-fledged production. If you did not buy me a Christmas present, I'll accept a gift in the form of tickets. You are welcome.
The Cast of Love's Labour's Lost
Love's Labour's Lost was a mixed bag for me because while I loved about 982 of Alex Timber's ideas, there was at least 125 of them I was 'meh' about (or something; I lost count). However, the strength of the ensemble can't be denied and everyone decided to dazzle at the Delacorte. Colin Donnell, Patti Murin, Bryce Pinkham, Rebecca Naomi Jones (Spirit Animal!), Justin Levine, Daniel Breaker, Maria Thayer, Lucas Near-Verbrugghe, Caesar Samayoa...and that is only like half of the cast, you guys! Large ensembles stocked with talent can get unruly, but this one balanced out and trudged forward through the Timbersfest that was LLL.
Those Meddling Repertory Productions
Everytime we enter the theater, we are lucky if we get a production that is well-directed and well-performed. Funny thing, though...the folks at the Belasco and Cort Theaters the last few months were all, "BITCH, PLEASE." Between the two theaters, we have four shows delivering like GrubHub - Twelfth Night/Richard III at the Belasco and No Man's Land/Waiting for Godot at the Cort. However you feel about each individual show (I wasn't that wild about Richard III), both casts memorized the blocking/acting for two shows running concurrently, where most of us could barely remember our holiday card list or the names of our extended-family members. Expect a shortlist of actors between both ensembles to be recognized come award season - Mark Rylance, Samuel Barnett, Ian McKellen and Billy Crudup to name a few.
That Time Bad Jews was Hysterical
The repertory shows and revivals dominated the conversation this Fall (just an observation, not a criticism, mind you), but I didn't forget this Off-Broadway sleeper - I could never! You just can't beat Joshua Harmon's impeccable writing in Bad Jews, equally as nuanced and thought-provoking as it was funny. And I won't be forgetting Tracee Chimo giving one helluva comedic performance or the sight of a UGG boot-sporting Molly Ranson singing a Porgy and Bess opera tune. We can't act like we did not see that; it happened. It was real.
Jillian Mueller in Flashdance
While Flashdance was preoccupied with failing at being good or "so bad, it's good," at least there is Jillian Mueller's performance. Such is the way of the (theater) world that well-written, technically-demanding, empowering leading lady roles are hard to come by unless they evoke a man in some way or you are Sutton Foster. Jillian took the also-ran Alex Owens - she just wants to dance, y'all - and made her likeable, tough and only partially weak in the knees when her boss tries to court her. It was the perfect holdover until Nina Arianda takes the stage in a few months, but I hope Mueller gets planted on more stages in the future, whether that be Flashdance or something else.
The Glass Menagerie is the Real Deal
Menagerie gets revived so often, it would be easy not to give two shits about the next production always in the pike, no matter how strong of a piece it is or the fact that is one of Tennesse Williams' best. Enter John Tiffany's impeccable production, which took shop at the Booth Theater early this Fall. The talk of the town for months and appearing on nearly every "Best of 2013" list, its euphoric feel and fantastic ensemble make for a hit show worthy of the hype it is receiving. A return visit must happen ASAP!
That Moment Kinky Boots and The Sound of Music Got People Talking (Remotely Positively)
The theatreverse has had a tough go the last few years in terms of exposure in the mainstream media. Every conversation struck up by my non-theatre friends revolved around Spiderman: Turn Off the Dark and its lawsuits, Rebecca and "Fake Investor Gate"* or Shia LaBeouf's menopausal episode* while rehearsing for Orphans. Well, a late-in-the-game rally courtesy of Kinky Boots' Macys Thanksgiving Day performance and the live-broadcast of The Sound of Music changed the terrain in the meantime. Regardless of your thoughts on Kinky Boots, I found myself cheering for their messages of diversity and acceptance when some people (of course) were up in arms about exposing their children to men and drag queens in thigh-high, sparkly boots. And no matter how out-of-breath Carrie Underwood was, The Sound of Music, aside from proving how awesome Audra McDonald and Laura Benanti are, accrued over twenty-million views and convinced NBC to greenlight more live-broadcast musicals. Both bits brought more exposure to the world of theatre then anything Smash could conjure up. Let's take these victories while we can get them...another scandal, for bonkers or for worse, seems to always be just around the corner.
*To be clear, I did love how cray both scandals played out, even if they did cast a pall over the hardworking, intelligent people in theatre (which there are plenty of).
Photo Credit: Carol Rosseg via Backstage.com