I know I get pretty excited about every new slate of Thee-Ate-Ahh happening all up in New York, but for really reals, I love me the Fall and Winter. Both Broadway and Off-Broadway are alive and kicking without the pressure and crayness that is awards season. While I look forward to the new works making their appearances, I get a kick out of seeing the classics and revivals that I probably wouldn't have sought out six years ago (oh, the age of 18 - if I knew then what I knew now). And this fast-approaching Fall decided to bestow upon us gifts from the Theater Gods…so lets run a few of those down, shall we?
The Glass Menagerie, Booth Theater
I have had a bit of trepidation whenever a Tennessee Williams classic gets a Broadway outing. Nothing on his part; in fact, he is one of the few authors who's work translates wonderfully between cinema and stage (when it is done right). But considering his last two Broadway outings were severely effed up - not blaming anyone, especially not Rob Ashford - I should employ caution once Williams' name is being tossed around for another revival. But oh, we have nothing to worry about here with The Glass Menagerie. Coming in hot out of A.R.T in Massachusetts - and with a confirmed thumbs-up from my reliable sources - lets ready ourselves for one of the sure-fire hits of the Fall (not to mention, one of Williams' best works of all-time). John Tiffany is a brilliant director and is perfectly suited for a show so subtle and emotionally controlled.
Big Fish, Neil Simon Theater
Like The Glass Menagerie, Big Fish has had some great buzz surrounding itself at every step leading up to its Broadway run. Killer source material? Check. Fierce-as-hell Susan Stroman directing and choreographing? Check. An ensemble cast led by the always reliable Norbert Leo Butz (!!!), Kate Baldwin (!!!) and Bobby Steggert(!!!)? Check. Amazing reception at its out-of-town tryout? Check. In fact, as much as I appreciate you reading my little ol' website, you might as well just bring up a new page on your web/mobile browser and purchase your tickets now. Who knows how long we'll have the chance...
The Snow Geese, Samuel J. Friedman Theater
Yes, we were all sick of Mary Louise-Parker when her character on Weeds became one of the most hateable leading "heroines" ever to grace cable television, but c'mon...girl has got major street cred when it comes to Broadway. 3 Tony nominations, one of which she won for playing Catherine in Proof (the role that Gwyneth Paltrow played in the film adaptation), makes her an intriguing draw. You know what else is intriguing? She is reuniting with Proof's Tony-winning director Daniel Sullivan, whom kinda sorta should have been nominated for a Tony last season even though he's been nominated a whole bunch of times. Oh, and The Snow Geese is written by Sharr White, whom also should have been nominated for a Tony last season for his great piece, The Other Place. Convinced yet? I raise you with the additional casting of Danny Burstein - LONG overdue for his first Tony after having been nominated four times - and the "so lovely and talented, I could cry" Victoria Clark. In short...there are too many names here to ignore, even if the ghost of Nancy Botwin makes you want to cu**punt a llama.
Domesticated, Mitzi Newhouse Theater
I have gone on record before stating my disdain for Clybourne Park. It was ambitious and had its brilliant moments that somehow got lost in the plot and overdosed on some crack. Regardless of that show, I find myself excited for Bruce Norris' next outing, Domesticated. Political-based, gender, familial and scandalous stories make their rounds, but the hybrid of the four, plus some of the cast - Laurie Metcalf, Jeff Goldblum and ROBIN DE JESUS BITCHES - makes me think this will be a worthwhile visit to Lincoln Center. Plus, it already has Broadway transfer rumors and we all love to be the first of that scene. Like first-responders to a major accident…except with less blood, human carnage and fatalities and with more theater and jazz hands.
Twelfth Night/Richard III, Belasco Theater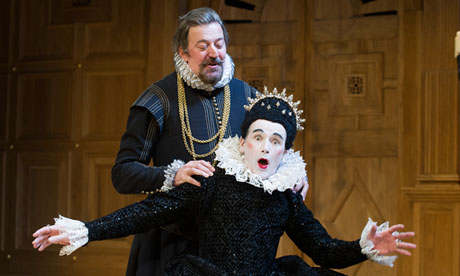 LOOK at that poise, bitches!
Best thing ever? Maybe so. As if it weren't enough to get two Shakespeare productions in repertory - the former being my all-time favorite Shakespeare piece - one of the productions just so happens to be the Apollo Theatre's all-male, critically-acclaimed, 4-time Olivier-nominated production starring Mark Rylance. Have you read this right? Starring Mark Rylance. Starring. Mark. Rylance. There is nothing that man cannot do, so if he is going to play Olivia in
The Twelfth Night
, you don't ask any questions and you just show the hell up and enjoy yourself and the masterclass of acting. And are we supposed to act like he won't be getting his third Tony nomination with this role? Because I can't - I already allotted the space on my dream ballot.
Little Miss Sunshine, Tony Kiser Theater
Yes, even with all of my "go home movies-turned-musicals, you're drunk" bravado, I can't act like every news bit on this show has made me, "SQUEE" with anticipation. To start, it is a pretty killer movie and I would recommend it to anyone who loves their main course of dark-comedy with a side salad of familial dysfunction. What excites me the most about Little Miss Sunshine is its composer, William Finn. Late of Falsettos and The 25th Annual Putnum County Spelling Bee - the latter of which is one of my all-time favorite shows - dude knows his stuff and his return to the New York theater scene is long overdue, quite frankly.
Photo Credit: Michael J. Lutch
Photo Credit: Tristram Kenton for The Guardian