With Cinderella only days away from opening and about 117 more shows opening thereafter in the lead-up to the Tony nominations, let's reflect on the worthy and unworthy of months past. Because they may be closed or on the verge of closing...but like themselves, let's act like the Tonys don't actually consider that and Leap of Faith's inclusion in the Best Musical category last year was because that was a high-quality show worthy of every penny. Yeah.
New musicals anyone? Anyone? Uh-oh...
Look, we all know you need to produce a Scottsboro Boys level of fantastic in order for a closed show to have a shot at Sir Tony. Heck, Lysistrata Jones was pretty darn great and one Tony nomination was met with parades of huzzahs. Let's accept it now so we can work it out in therapy in the lead-up to May...there are five musicals opening this Spring and the ballot will read like Matilda, Cinderella, Hands on a Hardbody and either Kinky Boots or Motown.
Unfortunately, there was little offered up this Fall to disturb the status quo. Chaplin was a disjointed mess with its only highlights coming from the kickass costuming/makeup and Rob McClure's spot-on performance in the title role. Scandalous had nothing going for it except a lot of walkouts at intermission. Rebecca never even had a preview, let alone opening night thanks to its very discreet and not-at-all hilarious controversy. I loved Bring It On, flaws and all, but it was exactly that...flawed (although a nomination for choreography would be well-deserved, and the score might sneak in given Tom Kitt's and Lin Manuel Miranda's history with the Tonys). The front-runner, by default, would be A Christmas Story, which ignoring its holiday-centric plot and length of run, had a sense of polish and whimsey to go along with Pasek and Paul's pleasant score. Also, adorable children that are not like some abhorrent red-haired girl...they were adorbs and fun and didn't make me want to dice and serve them over pilaf.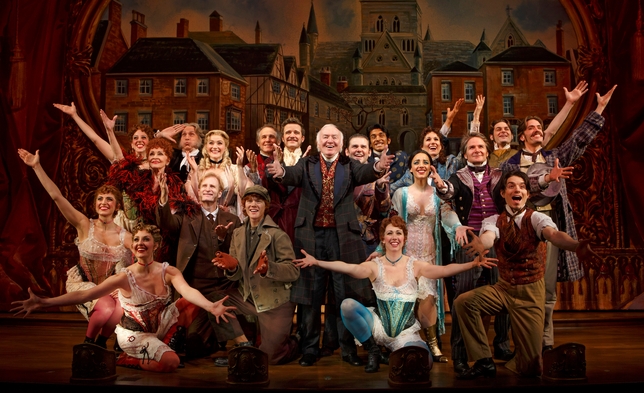 It's no mystery that The Mystery of Edwin Drood is where it is at.
Sure, this Charles Dickens piece is, arguably, one of the most difficult shows to follow, language barrier and plot twists and all. But for sheer impact and overall execution, it was just about as perfect as I can imagine. Credit must be paid to Scott Ellis, whose direction of the show was a masterclass of vision. Not to mention, the entire cast was in top form and several of them - Will Chase, Jessie Mueller, Betsy Wolfe, Andy Karl, Chita Rivera - will likely turn up in some of the featured categories for belting out the epic score like consummate pros.
Step aside Jessica Chastain...Judith Ivey just shut you down.
The Heiress is not the most riveting show in the history of theater, but like its revival last winter, it's not all that bad. Thing is, the show revolves around the central character of Catherine and needs a stellar performance to match. Unfortunately, Jessica Chastain, for all of her talent on screen, wasn't hacking it with her special needs performance. Fortunately, all anyone had to do is look around and find someone better to enjoy. My favorite? Judith Ivey's briskly funny and heartfelt performance as Aunt Lavinia, whom provided a nice contrast to the proceedings and cut through all of Catherine's bullshit without so much as a furrow of her fabulous dress and hat.
Oh Virginia Woolf, you so good.
It really didn't surprise me that Who's Afraid of Virginia Woolf was a knockout, but I was left totally flabbergasted that this 50th anniversary production managed to exceed my expectations. The book is as sharp as ever, but the stunning set piece and Pam MacKinnon's direction took the show where it needed to go. The Tonys can't keep dolling out the big awards for the same character in different revivals and that, unfortunately, means Tracy Letts will have to settle for just being a nominee. His performance, alongside Amy Morton's great take on Martha, were the talk of the town for months and rightly so.
Michael Shannon knows what to do.
If you were to tell me that the best performance in a show was going to come from someone with half of a face a la The Phantom of the Opera less the fabulous mask, I would have thought you were cray cray. Enter the striking, if off-putting, Grace, in which Michael Shannon delivers a beautifully subtle performance as the neighbor still mending past wounds. Even if his face wasn't bandaged up or disturbing to look at head on, Shannon had presence to spare and fulfilled his character arch for all of its worth, a nice redemptive counterpart to the miscast, manic and sweaty Paul Rudd.
And our two-time nominee in the same year goes to...
It's definitely a good time to be Bobby Cannavale (except for that whole being married to Sutton "Happy Go Lucky" Foster thing). In addition to playing Charlie Castle in this spring's revival of The Big Knife - DEFINITELY a Tony-worthy type of role - he already is a contender for featured actor in my book. I never liked Glengarry Glen Ross (or any of David Mamet's work for that matter), but the caliber of this winter's ensemble can't be denied. Even with great performances from Richard Schiff and David Harbour (heck, even that Pacino guy wasn't bad), Cannavale never let up on his relentless, fast-talking salesman shtick. Talk about an unbelievably layered performance beneath all the f-bombs, bro-clashing and junk-measuring that is the show.
Oh, and that other "knockout" of a production.
I suppose now is as good of a time as any to point out how fond of Clifford Odets I am. While one revival of his work would have been sufficient enough in any theater season, we are lucky to get two - the aforementioned The Big Knife and Golden Boy, which concluded its run last month. Oh sure, Odets has never met an obvious metaphor he didn't like and his attempts at "endings" (if you can even call it that) are pretty futile, but in terms of period nostalgia and creating moods, he's tough to beat. And Golden Boy got a huge shot in the arm from Bartlett Sher's amazing direction and the eye-catching set designs and costumes from Michael Yeargan and Catherine Zuber, respectively. While the performances were across-the-board on-point, this show truly belonged to Seth Numrich's Joe Bonaparte, the violinist-turned-boxer. Watching him grow more determined and wild-eyed and crazy as he delves deeper into the world of competitive boxing is a tour-de-force for the season in the "how, the hell, did he do that eight times a week?" mold.
The sleeper hit of the season.
I never would have guessed that The Other Place would get any sort of traction going - let that be a lesson the next time you think about underestimating Joe Mantello. What could have been a placeholder until a more "newsworthy" show takes shop, The Other Place was a surprisingly strong entry in the new play category as all of its elements came together very pleasantly. And in a Fall overrun with a lot of revivals and some shortlived/poorly-received new plays (Dead Accounts, The Performers, The Anarchist), that may just be good enough to make the cut.
Photo Credit: Joan Marcus
Photo Credit: Paul Kolnik