Man, doesn't it feel like yesterday you were eagerly awaiting The Mystery of Edwin Drood to open? Well, now it's February and if you are like me, you are contemplating which relative to eliminate in order to collect the inheritance for theater ticket money. Because there are, like, 30 or so shows opening and I want to see as many as I can and live to tell the tale. I need to start preparing myself for the sleep-less weekends at the rush/lotto lines...in the meantime, here's my short-list of productions that I am giddy with excitement over.
Vanya and Sonia and Masha and Spike, Golden Theater
Yes, I may have already saw this show's Off-Broadway run this past winter. Yes, I might have SQUEE'd when I heard a Broadway transfer was happening (and patted myself on the back for totally calling it). And yes, I will be seeing it again. Multiple times, in fact. It's basically porn for Anton Chekov lovers and I am not complaining. It's not too often you find yourself laughing your balls off at a bunch of crazy hi-jinx and characters, and yet feel intellectual stimulated at the same time. It's that balance between the two that make Christopher Durang's piece really work and with the full cast being reunited, I look forward to being wowed again. And again. And again.
The Last Five Years, Tony Kiser Theater
NEEDS.TO.OPEN.NOW. I don't think you heard me...NEEDS.TO.OPEN.NOW. Oh, The Last Five Years and all of your relationship dysfunction glory. The unique combination of chronological and reverse chronological storytelling (if you are not familiar with the show, just go with it) when added to one of Jason Robert Brown's best scores just makes for "that" evening...the one where you watch a highly thoughtful, intriguing character study and just can't stop thinking about it and analyzing every little detail. It also just so happens to be one of the most depressing things ever and you will want to kill yourself in the face of such despair. You know, more or less. Get ready to have your perspective on romance (and life in general) rocked - this show is no joke and my girl, Betsy Wolfe, along with Adam Kantor, playing Cathy and Jamie respectively, gives me life.
Kinky Boots, Al Hirschfeld Theater
For those of you that think I am a pretentious, sophisticated 22 23-year-old theater buff that can't find the joy in anything involving checking your brain at the door, you are only 90% correct. I didn't think Priscilla: Queen of the Desert was a flawless show or anything, but I did like it and appreciate it for what it was - crazy costumes and fun songs and all. Following suit, we have Kinky Boots, based on the film of the same name, that has guys in drag, angel costumes...some are drag angels even. Also, like the show's title poster, thigh-high glitter boots run amok and Stark Sands even dons a pair (or four, hopefully). Add in the creative team of Harvey Fierstein, Cyndi Lauper and Jerry Mitchell and you have...well, a really gay show (there, I said it), but also a really entertaining and fabulous one.
Orphans, Gerald Schoenfeld Theater
Out of all the "celebrity box office draws," this is the only one that has me really intrigued. It involves orphans (natch), thievery and kidnapping to play out in this - and I am speaking allegedly here - stockholm syndrome-esque melodrama. It's not that I love love Alec Baldwin (although he really is hilarious on 30 Rock) or even Shia LaBeouf, but considering both individuals are kinda, sorta bat-shit crazy in real life, I expect fireworks and explosions and maybe even some accidental fatalities. Sit back, relax and know where the exits are at all times - I'm stoked.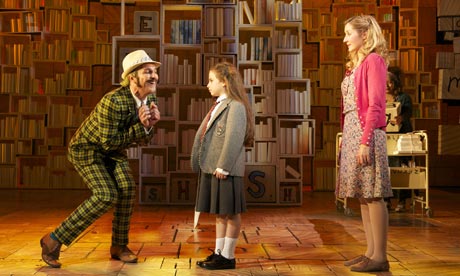 Matilda: The Musical, Shubert Theater
I mean, what is there to say about this show that hasn't already been said? All of my US and England-based spies can't stop raving about the show, it won nearly every major Oliver award last spring and it's a Roald Dahl classic of my childhood. It feels like we have been waiting years for this to happen, no? Some England transfer lose some steam on US territory (Ghost most notably), but I think this show will be the hit of the season and win all the awards (literally). And then tickets will be impossible to purchase and it will run until the end of time (see The Book of Mormon).
The Nance, Lyceum Theater
Whoever was the genius that conceived the idea to combine a story about 1930's burlesque and homosexuality, with a book by Douglas Carter Beane and starring Nathan Lane, deserves the biggest muffin basket that money can buy. Beane's books - from this season's Cinderella (which would have made this list if I hadn't already have seen it in previews) to the smart surprise that is Lysistrata Jones - are very "Beane" in the sense that he's the hysterical, inappropriate out-of-town uncle of your dreams. I am anticipating some witty laughs to meet heartfelt pathos in what sounds to be a slighter darker then usual show for Beane. And when it comes to Lane, I have never actually seen him perform live before, so what better show to lose my Nathan Lane virginity too?
Jekyll and Hyde, Marquis Theater
The more I think about this show, the more I ready my loins for the "belt-to-the-heavens" insanity that is Jekyll and Hyde. I don't know why exactly I consider this show to be Frank Wildhorn's greatest score, but at the least, it is miles better then Wonderland or even Bonnie & Clyde (although that is not saying much). I mean, "This is the Moment" is one of the best songs written in all of musical theater and I stand by that (and I've heard Constantine Maroulis sing it before and he really does it justice). There aren't many other shows this season with this balls-to-the-walls, middle finger to its critics trepidation (less maybe Hands on a Hardbody?), so by all means, we can count on this revival to not bore the eff out of us.
Pippin, Music Box Theater
Normally, to get my behind instantly in a theater, Stephen Schwartz is a good name to throw out there. This time however, we have another two additions: Pippin (Schwartz's best score) and Ms. Diane Paulus, whom made me like her last two Broadway outings, Hair and Porgy & Bess, on her direction alone. This show was well-received coming out of A.R.T and isn't that the exact type of thing you want to hear before purchasing a ticket? True, the original cast is in tact and may be a point of controversy - from Matthew James Thomas' relative anonymity to Patina Miller's gender-reverse casting as the Leading Player - but honestly, doubting Paulus is like a crime punishable by death in an alternate universe. You know, the ones where well-versed directors are royalty and you just go with it because why not?
Photo Credit: T. Charles Erickson via Newsday
Photo Credit: Manuel Harlan via Static.Guim.Co.Uk